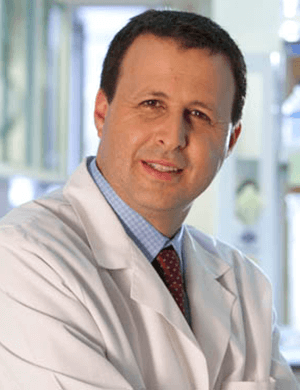 Dr. Richard Finn is a professor of Medicine at the Geffen School of Medicine at UCLA in the Department of Medicine, Division of Hematology/Oncology. He was an undergraduate at UCLA, where he was involved with early laboratory studies investigating the HER2 oncogene and the development of monoclonal antibodies to this target in breast cancer.
Throughout his career, he participated in the pre-clinical studies that defined the clinical candidate that eventually humanized and became the FDA-approved agent trastuzumab (Herceptin). He went to medical school at USC then returned to UCLA for his clinical training in Internal Medicine and then Hematology/ Oncology. Currently, he splits his time between patient care and directing the Translational Research Laboratory in the Division of Hematology/Oncology. His research interests are focused on developing targeted therapeutics for solid tumors across histologies to support the more significant efforts of the department and the development of these targeted agents in Hepato-biliary and breast cancers.
He has two-half days dedicated to patient care, one of which is as a leader in the multi-disciplinary hepato-biliary cancer program at UCLA, where he is involved with clinical studies aimed at bringing novel therapeutics into the treatment of patients with these malignancies.